Jivamukti Yoga with Ha-Chi Yu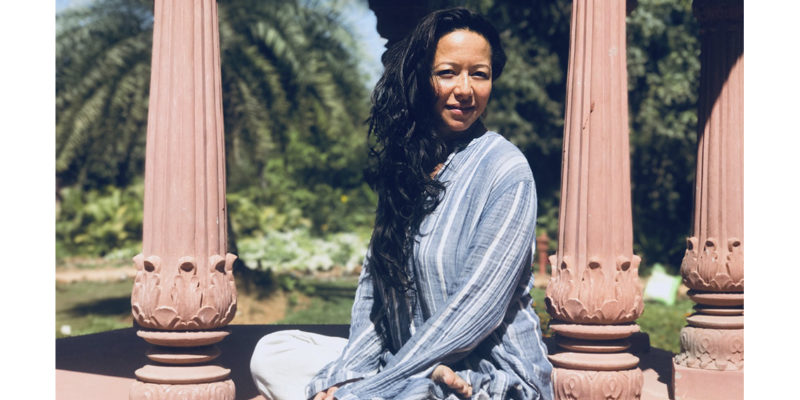 Jivamukti Yoga Weekend with Ha-Chi Yu (NY/LA)

Program
Friday 13th
09:00 am-10.30 am
Jivamukti Open Class
12:00-13:00
Jivamukti Spiritual Warrior

6 pm – 8.00 pm Chakra Tuning
In Yoga tradition, the human body has seven main energy centers called chakras. Taking an empowering approach to purifying the chakras, we'll move through a series of poses sequenced according to the chakra system.
We will explore the attributes of each of these seven energetic wheels from the root to the crown utilizing mantra, asana and high intention. By energetically inhabiting each of these centers we are able to address our relationships (with our parents, family, partners, everyone around, as well as our teachers and our own selves) and hone in on possible root causes of our emotional, mental and physical challenges. This practice will instigate healing and a change in perception to make way for discovering our true nature.
"When chakras are blocked through injury, illness, or disconnection from others, we are blocked from being our best selves. Rooted in ancient teachings, Chakra Yoga is more relevant today than ever. At a time when many people feel disconnected from themselves and others, it can heal your body and free your heart to move into the future with joy." Sharon Gannon
During this 2 hour Jivamukti Yoga workshop, we begin with a short discussion and then explore these seven doors of perception, using asana, pranayama, bija mantra and other meditation techniques.
Saturday 14th
10:30 am – 1:00 pm
Workshop: Asana for Hip-stirs
Whats more hip than cultivating emotional intelligence? Its widely taught in the yoga world that much of our emotional trauma lives in our pelvic area, the second chakra. We will explore, practically, the scientific correlation between our tight hips and our emotional freedom. Focusing on hip-openers, this class begins with a warm-up of surya namaskar variations and utilizes prop work and longer holds for opening hips and releasing tightness in the physical and emotional bodies. All levels welcome.
4 – 5.30 pm Jivamukti Open Class
Sunday 15th
10:30 am – 1:00 pm
Workshop: Back to the Future
The number one ailment of those seeking medical treatment in the world today: lower back pain. Through backbending asanas, we increase the mobility and flexibility of the spine, this allows us to increase our capacity for receptivity. Backbending takes us into the future, the unknown…with this culture locked into smart devices and a more sedentary lifestyle, we get further away from relinquishing control over our experiences. This heart opening flow will take you on a journey into the unknown. Using chanting, props, intention and breathwork this class is available to all levels.
Prices:
Jivamukti Open Friday: 230,- NOK/ or 150,- NOK for members with subscription/or 1 klipp.
Jivamukti Spiritual Warrior Friday: 185,- NOK/ or use your ordinary subscription/or 1 klipp.
Jivamukti Open Saturday: 230,- NOK/ or 150,- NOK for members with subscription/or 1 klipp.
Workshop Friday: 475,- NOK. 10 % discount to members with subscription
Workshop Saturday: 550,- NOK. 10 % discount to members with subscription
Workshop Sunday: 550,- NOK. 10 % discount to members with subscription
Visitors and non-members:
The whole Weekend: 2100,- NOK. Includes all classes & workshops. Food and accommodation not included.
Members with subscription:
The whole Weekend: 1715,- NOK. Includes all classes, & workshops. Food and accommodation not included.
Sign up for workshops here.
Sign up for Jivamukti Open Classes and Spritual Warrior here.
Please contact us for registration with «klippekort» to Jivamukti Open Classes Friday and Saturday.
BIO:
Ha-Chi Yu was born and raised on the Lower East Side of NYC. She grew up dancing in the parks and sidewalks of the city, which she has been blessed to be doing in some form ever since. She was a principal dancer with Feld Ballet/Ballet Tech for over 20 years during which time other projects included work with New York City Ballet, Mikhail Baryshnikov, and as a Principal on the Tony Award winning Broadway show FOSSE.
Ha-Chi is an Advanced Certified Jivamukti Yoga teacher and served as the Program Director for all Jivamukti Yoga® Teacher Training programs internationally. She has studied with esteemed teachers within various schools and practices including: Sivananda, Iyengar, Ashtanga, and Tripsichore. She is a 500hr RYT Yoga Alliance registered through Vibrant Living Yoga and Bhakti Flow Yoga. Ha-Chi is also a certified teacher in Gyrotonic ™, the Pilates method, and Thai Yoga Massage. Her background as a dancer and teacher has taken her around the world where she has taught master classes at colleges and universities…and performed on many of the world's finest stages with some of the greatest performing artists of our time.
Through strength, flexibility, and fluidity Ha-Chi's classes focus on the practices as an integration of ancient teachings into our modern day life with relevance, joy and reverence.
Ha-Chi offers infinite love and gratitude to all the many teachers in her life including Richard Thomas, Eliot Feld, Robert Moses, Rusty Wells, Sharon Gannon and David Life, and her friend and compatriot Jules Febre as well as all others. The opportunity to study with such holy teachers as HH Radhanath Swami and HH the Dalai Lama inspires and motivates her dedication to be of service to the world. She continues to travel and study whenever she can…And dances with the whirling dervishes whenever they cross her path.