Jivamukti Yoga Immersion 19.-21. October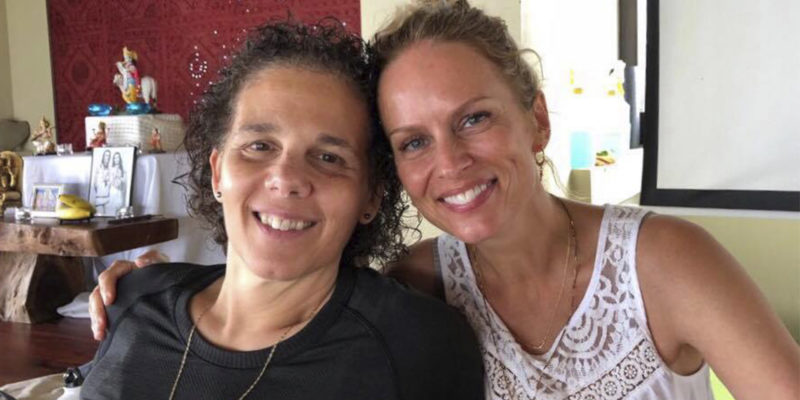 With Camilla Veen and Lori Zucker
A Jivamukti Immersion™ takes the student deeper into the study of Jivamukti Yoga and its five tenets: Ahimsa, Scripture, Meditation, Nada and Bhakti, as well as asana. Jivamukti's passionate focus on the original meaning of the Sanskrit word "asana"—as seat, connection, relationship to the earth—is as practical as it is radical during this time of global crisis and consciousness shift. The Immersion is perfect for those wishing to delve into the practical and mystical practices of Jivamukti Yoga. A Jivamukti Immersion™ provides great opportunities to make breakthroughs in asana practice, detox your body/heart/mind, and more deeply integrate your individual self with the greater reality.
Immersion program 19.-21. Oktober 2018
Friday Oct 19
5:00 pm Arrival & Check In
5:30-6:30 pm Asana class Spiritual Warrior
6:30-7:00 pm. Refreshments
7:00-8:30 pm. Welcome, Satsang & Introductions
Saturday Oct 20
9:00-9:45 am. Meditation & Scripture
10:00-11:30 am Asana class
11.45-1:00 pm Philosophy
1:00-2:00 pm Lunch
2:00-4:00 pm Anatomy w/ Lori Zucker
4:15-6:00 pm Asana Lab w/ Lori
6:00-7:00 pm Dinner
7:00-9:00 pm Satsang & Movie
Sunday Oct 21
9:00-9:45 am Meditation & Scripture
10.00-11.30 am Asana class
11.45- 1:00 pm Chakras & Nadis
1:00-2:00 pm Lunch
2:00- 3:30 pm Anatomy of the chakras w/ Lori
3:45-4:15 pm Chakra Tuning class
4:30-6:30 pm Continuing education workshop w/ Camilla, Emma Henry & Lori
7:00 pm Closing & Goodbye
Price:
All weekend NOK 4500/ Friday only NOK 650/ Saturday only NOK 2100/ Sunday only NOK 1750
10 % discount JY certified teachers; Discount code JYCERTIFIED
10 % discount to members with subscription.
Drop in available Saturday & Sunday. Please see schedule.
Food & Accomodation not included in prices above.
About Lori
Dr. Lori Zucker employs an integrative approach to physical therapy to achieve maximum recovery and comfort for her patients. She specializes in providing holistic care to individuals experiencing a wide array of musculoskeletal injuries or conditions
Practicing since 1985, Lori received her Bachelor's Degree in Physical Therapy from Washington University, a Master's Degree in Pathokinesiology from New York University, and her Transitional Doctorate in Physical Therapy from Rutgers University (formerly UMDNJ).
In addition, Lori is an Adjunct Professor teaching in the Doctoral Program in Physical Therapy at Rutgers. She has authored a chapter in Complementary Therapies for Physical Therapy: A Clinical-Decision Making Approach, which was published in 2008. In the same year, Lori received the James Tucker Excellence in Clinical Teaching Award from the American Physical Therapy Association of New Jersey, and was awarded the outstanding alumni award from Rutgers. More recently, Lori has been an invited speaker at the New Jersey American Physical Therapy Association Spring Meeting and a presenter at the annual conference of the American Congress of Rehabilition Medicine (ACRM).
An avid yoga practitioner, Lori is a certified yoga instructor and integrates principles of yoga in her physical therapy practice. She regularly advises yoga professionals on anatomical alignment, injury-prevention, and asana modifications. Lori recently launched a website bringing some of the medical research on yoga to the general public. It can be accessed here.
Since 2006, Lori has lectured on anatomy and injury prevention both in the United States and overseas.
About Camilla
Camilla's first encounter with yoga was as a young child when she observed her mother in odd positions while doing breathing exercises on the living room floor at home. The fascination for yoga started already then!
Camilla has practiced yoga since the spring of 2000, and received the 300- hour certification as Jivamukti Yoga Teacher in the fall of 2003. She is an Advanced Certified Jivamukti Teacher and is currently one of the facilitators of the Jivamukti Yoga Teacher Training program. Through her passion and confidence, Camilla has influenced many Jivamukti students on their path to becoming teachers and continues to galvanize the growing Jivamukti community in Scandavania and Europe.
Camilla founded Atha Yoga in Stavanger, Norway in 2005. 12 years later, in 2017, Atha Yoga was transformed into a certified Jivamukti Yoga Center, and is now Jivamukti Yoga Stavanger. Camilla is the director of the center where she is also responsible for the faculty and the yoga program. She teaches Jivamukti yoga classes and workshops in Norway and Internationally.
It is the holistic perspective of Jivamukti Yoga that appeals to Camilla – with equal emphasis on the spiritual and mental aspects of yoga as well as the physical components. She is eternally grateful for all the inspiration, encouragement and love that she gets from her teachers, Sharon Gannon and David Life.