75 Hour Teacher Training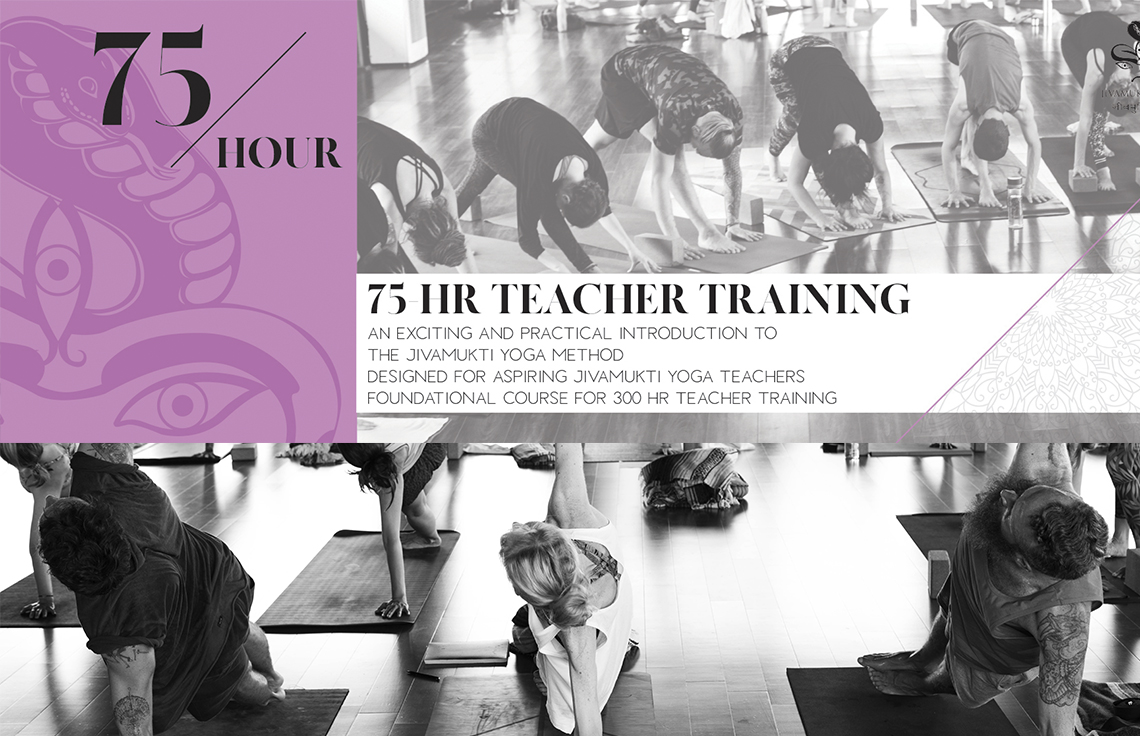 75 HOUR TEACHER TRAINING
"I had practiced a lot of different yoga styles but when I discovered Jivamukti Yoga I understood that I've found everything that I was searching for. Jivamukti Yoga makes you a totally different person – happy and free from suffering."
Ekaterina Safonova, Russia (JYTT India 2017)
The Jivamukti Yoga® Teacher Training will provide you with a blueprint for incorporating the physical, psychological, spiritual and mystical aspects of yoga into modern life, without losing sight of the universal goal of the practice: liberation. Jivamukti Yoga's® focus on a non-dualistic view of life (the interconnectedness of all) awakens in the practitioner not only the need to protect the environment and all the animals and plants that share the planet with us, but also teaches skills to confidently achieve those goals for oneself as well as lead others to live in harmony with the planet.
WHO CAN PARTICIPATE IN THE JY75?
You want to bring your yoga practice to a deeper level.
You are interested Satsang, spending time with like-minded people who are interested in yours and their own personal growth.
Students who are interested in seeing yoga practice from the teacher's perspective
You are a Yoga Alliance Certified Teacher and you need Continuing Education Credits (*availability of CE credits may vary from studio to studio)
You are interested in taking the 300-HR Jivamukti Teacher Training, but would like more experience with Jivamukti Yoga and the Jivamukti method before signing up for the 300 HR program.
You have taken a 200 hr. Teacher Training elsewhere, and would like to delve deeper into the teachings of yoga and obtain more knowledge about the Jivamukti method.
WHAT ARE THE PREREQUISITES FOR THE JY75?
1) PRACTICE PREREQUISITES:
Applicants must have practiced the Jivamukti Yoga Spiritual Warrior class a minimum of 10 times within the last 6 months, prior to the beginning of the orientation; and provide documentation that this prerequisite has been completed. Documentation can be provided in various ways, for example by providing MindBody class attendance printouts, or a log with dates classes were taken initialed by the teacher(s).
2) READING PREREQUISITES:
Students must familiarize themselves with and have copies of the following 5 publications:
Jivamukti Yoga: Practices for Liberating Body and Mind, by Sharon Gannon and David Life.
The Art of Yoga Assists, by Sharon Gannon and David Life
Yoga and Vegetarianism, by Sharon Gannon
Jivamukti Chant Book, by Sharon Gannon and David Life
The Magic 10 and Beyond, by Sharon Gannon
WHAT TO BRING
Notebook for taking notes and journaling etc
Writing utensils
Yoga mat, 1 yoga strap, 2 blocks (not styrofoam), and one blanket
1 jar of Jivamukti china gel** and 1 bottle of Jivamukti Lotion
*Note: It's a good idea to put your name on all your things.
**(Based on availability in certain markets)
STUDENT PAYMENT OF FEES
The local fee is due and payable to the Program Director at the time of registration.
If the 300 hour Jivamukti Teacher training is taken upon successful completion of the JY75 then the following reimbursements and rebates are applicable:
Within one year: 100% of tuition paid
Within two years: 50% of tuition paid
After two years: 0% of tuition paid
Refund Policy:
Partial or full refunds can be given under very extenuating circumstances (health reasons, death in family etc). Host Center will determine the best course of action under such circumstances using the most compassionate approach to the students. Within 1 month of the program commencement, no refunds can be issued. However tuition can be put towards a future 75HR TT by the same Host Center, less $350 processing fees to implement the changes.
THE CURRICULUM
Introduction:
The curriculum presents 5 units, each unit is 15 hours. Each day of each unit* contains the following elements in this order:
Chanting/Meditation/Discourse [total time 50 min.- 1 hr.]
Asana Practice/Practical [total time 2 hrs.]
Session Time [total time 2 hrs.]
Review [total time 0.5 hr.]
Homework [total time 2 hrs.]
Total time per day: 7.5 hrs.
*Note: Unit 5, day 2 has a slightly altered schedule to allow time to give the final review and have a closing ceremony.
Please contact us at post@jivamuktiyoga.no